Virgil Simons is the Founder & President of The Prostate Net®, a non-profit patient education and advocacy organization. When he was diagnosed, there was little to no readily accessible information to help prostate cancer patients and their families make informed treatment decisions. Using the experiences gained as marketing professional and as a 16-year survivor of prostate cancer and a patient advocate, Virgil has built an international organization that uses a matrix of informational techniques (Web site, 800#, email and personal team counselors, public forums, newsletters and community disease interventions) to address disease risk awareness and early disease interdiction.
The core objective of The Prostate Net's mission is to develop and maintain an interactive matrix of educational tools and services that will:
Educate consumers most at-risk from a diagnosis of prostate cancer
Inform the community on other diseases and conditions of negative impact
Motivate consumers to make informed choices as to healthcare and lifestyle management
Lay the foundation for on-going health care information dissemination and interaction between the community and medical centers
Create an interactive network to maximize broad scale, mass communications of actionable health messages
Throughout the United States, The Prostate Net® has brought prostate cancer education directly to key areas of social interaction in the black community: churches, service agencies and barbershops. Additionally, these programs foster relationships between public health departments, medical center outreach teams, cancer education researchers and the public.
Health disparity is an issue of grave importance to our global society given the impact of lack of access to information and care to a growing portion of our population. Because of socio-economic condition, racial and/or ethnic impediments, and other situations that limit the potential to achieve the best standards of health, there is a compelling need to identify those programs that have been successful in helping to change the negative paradigms.
The Prostate Net® has shown that it can provide an on-going conduit for information from the medical establishment into at risk communities not only relating to prostate cancer, but to the entire panoply of medical conditions disproportionately manifest within these communities, e.g. diabetes, cardiovascular disease, hypertension, etc.
Because it has been proven that a shift is increasing toward electronic, broadcast and Internet-based media away from traditional printed vehicles, The Prostate Net®, utilizing its vision for the future, is moving the thrust of consumer informational and patient educational vehicles into those formats most receptive for the target audience of men 50 and over with lower techno-literacy levels as well as preparing to embrace those younger men who grown up with more technological awareness, e.g. Website renovations, Pod Casts, Cell Casting, etc.
Further, a demonstration of the effectiveness of this program in influencing health-seeking behavior should naturally generalize to education concerning clinical trials with the goal of increasing recruitment of minority and underserved populations into such trials nationwide.
The strength of The Prostate Net's mission is aided by organizations with which we are associated: National Medical Association, Department of Defense Prostate Cancer Research Program, American Society of Clinical Oncology, American Association for Cancer Research, the National Association of Barber Boards of America, Gilda's Club among others. Providing organizational oversight is our Medical Advisory Board composed of noted cancer clinicians, researchers and health professionals.
The job of raising public awareness about prostate cancer risks is far from complete. The Prostate Net® seeks to expand its current initiatives through effective partnerships in disease education, community intervention and population research studies. This site has been designed to provide you with some of those tools and guidance that can be employed on a local basis to address particular issues for your community or organization.
Please feel free to contact us if you would like to design a program in prostate cancer education, men's health awareness or research grant application for your community.

In Memoriam
Jennifer Joan Simons - 1947 - 2014
Rest in Peace
Jennifer Joan Simons
Died: Good Friday April 2014
Lifted Up: Easter Sunday April 2014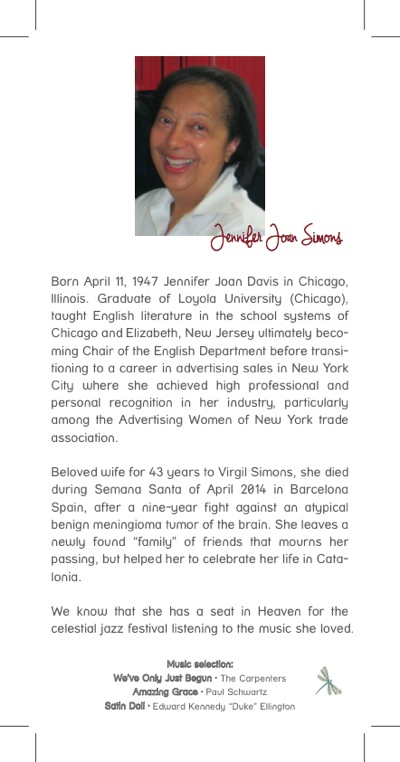 A Copy of Jennifer's Eulogy may be downloaded here.


Board of Directors
Jennifer J. Simons – Chairman of the Board.


Billy James Parrott – Programmatic Strategy Chair
Parrott & People, Inc.


Edward I. Frankel – President
Edward I. Frankel & Associates

Michael Gottlieb – President
Pendulum Corporation

Linda Johnson – Healthcare Consultant


Janet J. Peters
Long term advocate and fund raiser on behalf of Breast Cancer organizations

Bobby Jefferson – Senior Health Informatics Advisor at Futures Group.
Medical Advisory Board
Lucile Adams-Campbell, Ph.D. – associate director
for Minority Health and Health Disparities Research, Georgetown Lambardi Comprehensive Cancer Center
Dr. Ronald Morton, Jr., MD, FACS – Chief Medical Officer
Boston Scientific
Dr. Daniel Petrylak–Director
Genitourinary Oncology Program
Division of Medical Oncology
Yale University Cancer Center
Dr. Nicholas Vogelzang – Chair and Medical Director of the Developmental Therapeutics Committee for US Oncology Research
Operational Advisory Group
David Evans – President
Digital Voodoo Communications Technology
Clifton Leaf
Print Communications and Media Policy
Nato Rosado – Corporate Identity Consultants