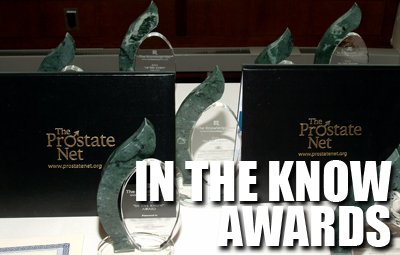 The Board and staff of The Prostate Net® are proud to announce the recipients of our "In The Know Awards" for 2008. This selection is made in recognition of their efforts to eliminate health disparity:
Translational Research Excellence - Natasha Kyprianou, PhD - University of Kentucky

Genetic Research Excellence - Rick Kittles, PhD - University of Chicago. Award presentation video available here.

Epidemiological Research Excellence - Timothy Rebbeck, PhD - University of Pennsylvania

Oncology Nurse of the Year - Jeanie Green - Tennessee Urology Associates

Patient Services - Patient Advocate Foundation - Presentation Video

Community Urology - Manouchehr Lalehzarian, MD and Michael Strub, MD - Kaiser Permanente

Barber of the Year - Willie E. Brennon (posthumous)
Mrs. Brennon receives the Award from Bergen County Freeholder Vernon Walton and County Cancer Control Coordinator Kenese Robinson.

Individual award ceremonies will be held locally and will be posted here as they occur. A summary Webinar will be held in September as part of Prostate Cancer Awareness Month; details will be posted here: http://theprostatenet.org/knowawards.html and will be provided to all those on our database.

Please join us in congratulating the honorees for their work!
Nomination Criteria
Click here to download
4th Annual "In The Know" Awards Nomination Criteria




Archives
Click here to download 2007 "In The Know Awards" program
2007 In The Know Award Honorees
2006 "In The Know Award" Honorees
Click here to download 2005 " In the Know awards" program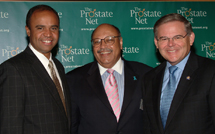 Left to right: Bronx Borough President Adolfo Carrion, Virgil Simons, Senator Robert Menendez. (Photo by Gerald Peart)